I suppose that once the Thor builds are done, it'd be time to stat up Jack Kirby's ultimate 'nemesis'... because this kinda gets hilarious.
Warning for politics, though the thing that most attracts my attention is the way this particular shitheel, who's a pretty unambiguously racist and sexist and homophobic douchecanoe of the highest order and I can provide evidence of that, decided to respond to the statement that someone like Jack Kirby might not agree with his politics.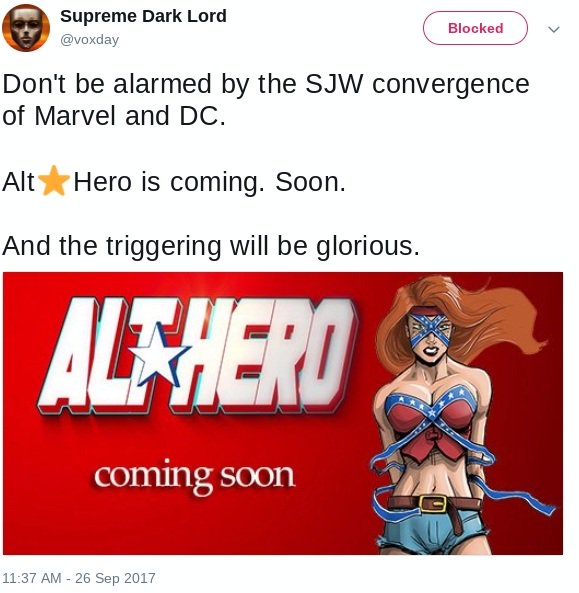 For a brief recap of those images, with context;
Vox Day proposes really shitty looking comics line in response to so-called SJW takeovers at DC Comics and Marvel Comics. Not the first time he's tried to position himself as a publisher of far-right alternatives to mainstream literature, by any means, given that he's also the guy behind Castalia House and that one attempt to hijack the Hugo Awards a few years back. He's already pretty universally reviled by the SFF community so figured that the rise in controversy over diversity initiatives in the comic-book industry was a good starting point to try and get in on a
different
ground floor.
One person points out that comics legend Jack Kirby would hate him. He tries to claim that Jack Kirby would want to work for him because of the SJW takeover, and then many, many people point out that Jack Kirby was pretty famously left-wing and actually did incorporate what were at the time some pretty damn progressive-leaning identity politics into his work. Also that he pretty infamously, and for obvious reasons, hated the far-right. Vox Day is openly antisemitic, incidentally, with various statements on Jewish people having inherently divided loyalties because of Israel or some such nonsense.
After this comes to light, he actually starts trying to backtrack on this and claims that Jack Kirby was actually a terrible artist. And because of the common thread of Jack Kirby beating up Nazis, and people pointing out (correctly) that Vox Day himself would get beaten up for himself being a goddamn neo-Nazi, he claims that he could beat Jack Kirby in a fight. Yes. Really.
Like, there's sad, and there's Vox Day sad. If I were a right-winger I'd be really embarassed to be associated with his end of the spectrum.
Sort of like how I'm embarassed by the tankies.
In any case, 'cause politics, there's a sexy images tax so...