MEGA MAN ZERO BOSSES
PL 12 (159)
STRENGTH
8
STAMINA
--
AGILITY
4
FIGHTING
10
DEXTERITY
4
INTELLIGENCE
4
AWARENESS
3
PRESENCE
4
Skills:
Athletics 4 (+12)
Deception 4 (+8)
Expertise (Military) 4 (+8)
Insight 3 (+6)
Intimidation 8 (+12)
Perception 4 (+7)
Persuasion 3 (+6)
Technology 8 (+12)
Advantages:
Accurate Attack, All-Out Attack, Close Attack 2, Diehard, Improved Critical (Main Attack) 3, Improved Initiative, Power Attack, Ranged Attack 8, Startle
Powers:
"Robot Master Frame"
Immunity 30 (Fortitude Effects) [30]
Leaping 2 (30 feet) [2]
"Robotic Frame" Protection 14 [14]
Offense:
Unarmed +12 (+8 Damage, DC 23)
Initiative +8
Defenses:
Dodge +10 (DC 20), Parry +10 (DC 20), Toughness +14, Fortitude --, Will +8
Complications:
Weakness (Various Weapons)- Each Boss has more than one form, and each form is weak against at least one kind of weapon.
Total:
Abilities: 64 / Skills: 38--19 / Advantages: 19 / Powers: 46 / Defenses: 11 (159)
-This is the Generic Template for the four Bosses of the
Mega Man Zero
series.
COPY X- PL 12 (202):
"Mode Change" Blast 6 (Multiattack, Variable 2- Any Energy), "Charged Shot" Blast 8 (Requires Full-Round Charge), "Electricity Wave" Damage 8 (Shapeable, Along Walls & Floors Only), "Fire Wave" Line Damage 8, "Sliding Kick" Strength-Damage +2, "Gemini Laser" Blast 8 (Ricochet 3), "Seraph Form" Flight 6, "Tentei Laser" Blast 8 (Multiattack), "Bind Ring" Snare 8 [43]
-The Boss of
Mega Man Zero
, Copy X is, naturally, a copy of X from the
Mega Man X
series, but with red eyes and an angel motif. He is an arrogant copy obsessed with perfection. When an energy crisis engulfed the world, Copy X (who'd been created by the scientist Ciel in order to replace X, who'd given his life to end the "Elf Wars") decided that the energy-guzzling Reploids were the problem, and had to be exterminated. An awakened Zero must lead the "Resistance" against Copy X. Ultimately, he is defeated and blows himself up trying to kill Zero. He is resurrected in
Mega Man Zero 3
as a bad guy and minion. Copy X was originally supposed to actually BE X-gone-Maverick, but the creation of
Mega Man X6
changed those plans.
ELPIZO- PL 12 (212):
INT 6, "Dark Drain" Weaken Strength 8 (Affects Objects Only, Ranged, Homing 4, Ricochet 2), "Saber Dash" Strength-Damage +4, "Splash Laser" Blast 10 (Multiattack), Teleport 4 (Change Direction), Morph (Metamorph): "Demonic Form", STRENGTH +2, Flight 6 (Winged) [53]
-The Boss of
Mega Man Zero 2
, Elpizo is one of those "Effeminate Male Royal"-type characters so popular in Japanese stuff. He's a Reploid scientist who figured that the only way to save his people was to exterminate human society entirely.
OMEGA- PL 12 (209):
"Rekkoha" Cylinder Damage 11, "Hoop Shot" Line Damage 11, "Lasers" Blast 12 (Ricochet 2), Features 2 (Detachable Hands), Morph (Metamorph): Omega Form, Multiattack on Lasers, "Binding Ball" Move Object 8, Zero Form [50]
-The greatest creation of "Dr. Weil", and made to be the perfect ruler, Omega is the boss of
Mega Man Zero 3
. He appears as a gigantic knightly dude, but his true form is the original body of Zero.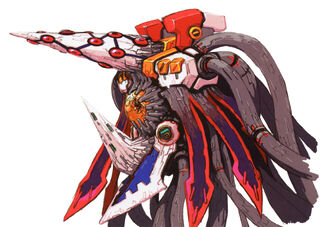 DR. WEIL- PL 12 (221):
INT 8, Science 8 (+16), Regeneration 10 (Regrowth), "Death Pierce" Blast 12 (Multiattack), "Energy Recover" Healing 5 (Self Only), "Enemy Inferno" Summon 12 (Active, Variable 2- Mavericks or Bonsect Minions, Limited to 1 Round -2), "Net Capture" Snare 8 [62]
-Dr. Weil (aka "Dr. Vile") is the Final Boss of
Mega Man X4
, and the overall boss of the entire
Zero
series. He was a huge part of the "Elf Wars" that make up the series backdrop, and was co-creator of the "Mother Elf" that ended the wars, and later, believing that Reploids had to be punished for the destruction they caused during the Wars, turned her into the "Dark Elf" that ended up killing X in the future. A calm manipulator, but highly-psychotic, he built Omega to be the ultimate ruler, and delights in causing death and destruction, informing Zero that he is "the Devil".