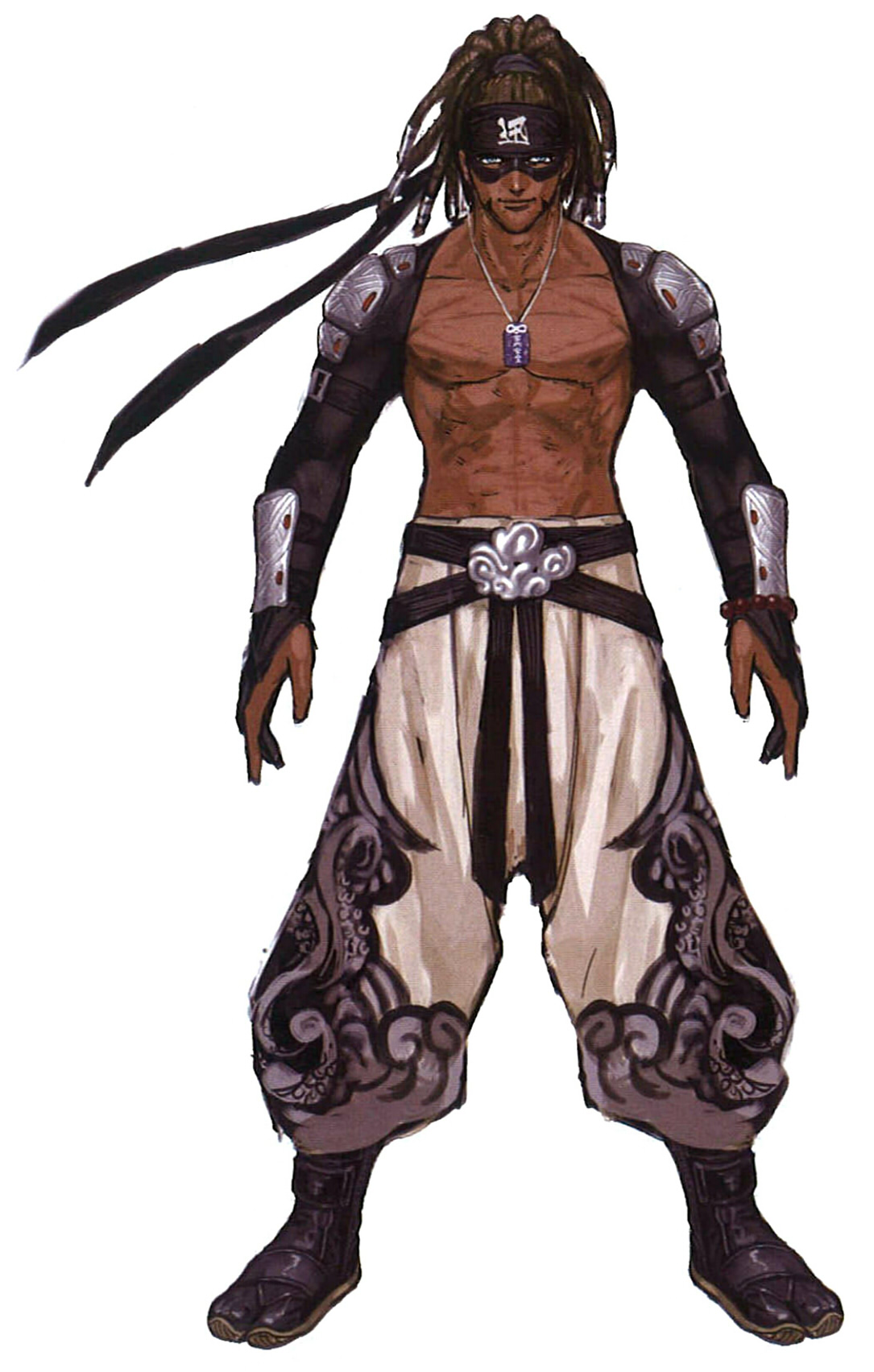 BANDEIRAS HATTORI
First Appearance:
King of Fighters XIV
Game Appearances:
King of Fighters XIV only
Role:
Weeaboo Ninja Fan
PL 8 (106)
STRENGTH
3
STAMINA
3
AGILITY
5
FIGHTING
9
DEXTERITY
4
INTELLIGENCE
0
AWARENESS
0
PRESENCE
0
Skills:
Acrobatics 8 (+13)
Athletics 9 (+12)
Close Combat (Unarmed) 4 (+13)
Expertise (Ninja) 5 (+5)
Intimidation 4 (+4)
Perception 6 (+6)
Stealth 4 (+9)
Advantages:
Agile Feint, Defensive Attack, Evasion, Improved Critical (Unarmed), Improved Critical (Iguazo Otoshi), Improved Critical (Shining Ninja Arts)
SNK Fighting Style:
Accurate Attack, All-Out Attack, Defensive Roll, Extraordinary Effort, Fast Grab, Improved Defense, Improved Hold, Improved Trip (Throw), Power Attack, Takedown, Withstand Damage (Block)
Powers:
"Sankaku-Tobi- Wall Jump" Leaping 1 (15 feet) [1]
"Iguazo Otoshi- Spinning Slam" Strength-Damage +2 (Feats: +2 to Hit if Opponent Parried Last Turn) (Inaccurate -1) (2) -- [3]
AE: "Shining Ninja Arts" Strength-Damage +2 (Inaccurate -1) (1)
Offense:
Unarmed +13 (+3 Damage, DC 18)
Special Moves +11 (+5 Damage, DC 20)
Initiative +5
Defenses:
Dodge +11 (DC 21), Parry +12 (DC 22), Toughness +3 (+4 D.Roll), Fortitude +6, Will +5
Complications:
Motivation (Gaining Students)- Bandeiras hopes to draw students to his Brazilian Ninja Arts dojo.
Responsibility (Failed Weeb)- Bandeiras is shocked that Japan is more modern than he imagined.
Weakness (Predictability)- SNK Characters cannot simply "spam" out the same attack over and over again, as the opponent will expect the attacks, and be ready for them (and a counterattack). The third time they try the same technique (or same combo of techniques) in a short span, they will be at -2 to Accuracy, AND to his Active Defenses in that round. All will decrease by 2 every successive round the same move is done.
Total:
Abilities: 48 / Skills: 40--20 / Advantages: 6 + 11 / Powers: 4 / Defenses: 17 (106)
-Bandeiras rounds out the new "Brazil Team" in
King of Fighters IV
, and is a big-time fan of ninjas- so much so that he founded a "Brazilian Ninja Arts" dojo. Unfortunately, he's in desperate need to students, and joins the King of Fighters tournament to advertise it. This makes him a bit of a comedic character, especially with the quirks that he's just a big ol' fanboy of Japanese culture, and is actually a lot more clueless about Japan than he thinks- he presumes Japan to be a low-tech, traditional paradise and is shocked by the modern country he sees.